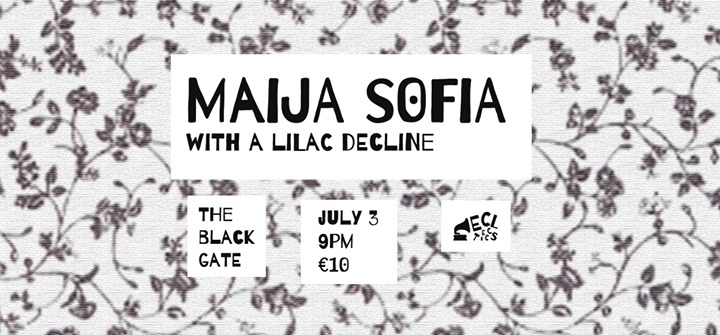 Eclectics
Maija Sofia w/ A Lilac Decline
The Black Gate
July 3rd @ 9pm
€10 – Get tickets with this link!
http://buytickets.at/theblackgateculturalcentre/278272
"A real timeless quality is rare in so much of modern music, but the delicate timbre of Maija Sofia's music is impossible to ascribe to particular moment. She doesn't occupy an easily identifiable space – there are few genres which could accurately pinpoint her sound – and the ease with which she weaves grand tales of mythos into short and delicate folk tunes suggests a true finesse. Her subject matter is seldom trivial – abuse, mythological stories, feminism and loss are considered with a confident serenity.
The pinnacle of her work so far came at the beginning of the year in the form of the dreamy Phil Spector-esque 'Flower', easily one of the best new releases of 2018 either at home or abroad.
Now embracing a fuller sound, Sofia's work has strengthened with time and experimentation while never losing the ethereal quality which makes it so effective. Fans of Sofia wait with bated breath for the release of her first full-length LP in 2019."
– Andrea Cleary, The Irish Times '50 People to Watch in 2019′
Maija Sofia is a singer and writer from rural Co. Galway but currently lives and works in Dublin. She has performed at numerous festivals across Ireland and the UK including Other Voices, Electric Picnic and the London Antifolk festival. She has played support to Joan As Police Woman, Julien Baker, Stella Donnelly, and Adrian Crowley amongst others. She has released an EP and a handful of singles, including most recently last year's 'Flowers' via London imprint Trapped Animal which was named best new music by DIY Magazine. In spring 2018 her unreleased song 'The Wife of Michael Cleary' was covered by Katie Kim and Lankum's Radie Peat for a one off collaborative performance in the Pepper Canister. She is currently recording her debut full length album which will be released later this year.
P R E S S
'An essential new release to get obsessed with'
– DIY magazine, 2018
A heavenly blend of lo-fi and dream pop. Think Jesus and Mary Chain meets Angel Olsen.
– Hot Press, 2018
Sounding like a meeting of Phil Spector, Scott Walker and PJ Harvey […] an engrossing multifaceted listen that works on almost every level.
– The Last Mixed Tape, 2018
Dealing with the universal traits of loneliness and anxiety – but lightened by juxtaposition with Sofia's empirical, fairytale mannerisms – the tracks on the Galway's musician's debut solo EP makes for a bewitching, almost voyeuristic listen.With hints and shades of the likes of Mazzy Star and CocoRosie, we're most certainly smitten.
-The Thin Air, 2015
She looks like a mythological character, and her song deals with a goddess' tale: meet Galway singer Maija Sofia. Her enigmatic voice is perfect for this folky tune, an ethereal retelling of the Greek tale of a kidnapped goddess trapped in the mythical underworld
-RTE Culture, 2017
https://www.breakingtunes.com/maijasofia
A Lilac Decline is the anagrammatic musical pseudonym of visual artist Cecilia Danell. Originally from Sweden but resident in Ireland for over a decade, Danell is also a member of fellow Rusted Rail acts Cubs and Loner Deluxe. Her debut album 'The Mountain Rages' (Rusted Rail, 2017) came together during sessions in the spring and the wet summer of 2016, recorded via one microphone and a bunch of borrowed and found instruments, in an attic room in Galway and during impromptu sessions in a remote cabin in Norway. Whilst there were flashes of electricity on her debut album, her forthcoming second album finds A Lilac Decline going electric, Telecaster in hand. Having pretty much ditched the acoustic guitar that was so prominent on 'The Mountain Rages', her sophomore album is shot through with glimmering and shimmering six string serenades, fuzzy melodies and chunky riffs. A move from the buzzing city centre to the leafy outskirts of town has also had an influence on the new music. Plugged in and turned up, A Lilac Decline overcomes any conventional wisdom regarding the "difficult second album" as this upcoming release finds her exactly where she needs A Lilac Decline to be. It's not all sturm and strum though as the signature sound of fingerpicked guitar is still present. Rural electrification has rarely sounded so sweet.
-PRESS-
"The Mountain Rages is a beautiful album of gentle, lyrical, yet intensely personal, folk influenced songs. Thematically it moves from vulnerability, to yearning, to faltering hope, culminating in it's emotional centrepiece – 'A Fine Day At Last', its mellow Velvets-esque feel building into a giant sigh of relief." – The Galway Advertiser: Galway Solo Artist of 2017.
"Really gorgeous stuff and highly recommended." – Norman Records
"Music having a ghostly, hazy beauty that is hypnotic and easy to get lost in" – Terrascope
https://rustedrail.bandcamp.com/album/the-mountain-rages