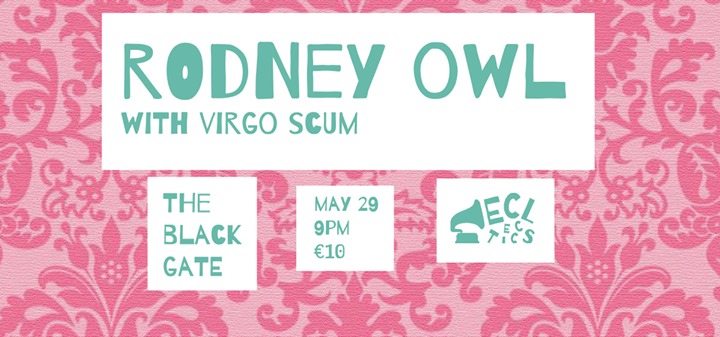 Eclectics:
Rodney Owl w/ Virgo Scum
The Black Gate
May 29th @ 9pm
€10
Rodney Owl is the youngest from a family of eight music mad war babies. Thoughtful and aggressive, alternative easy listening.
Originally from Co.Armagh in the north of Ireland, now based in Galway in the west.
Recording of Rodney Owl's second album is on-going, it will be released on a song by song basis and the third single "12 Years" is out mid-May.
"Not of this time, Rodney Owl writes beautifully arranged and accomplished songs. Shades of – Love, Lambchop, early REM." – Cian Ó Cíobháin (An Taobh Tuathail)
"Elegant folksy guitar picking, a sweet wisp of melody – reminiscent of acoustic legend Nick Drake" – Across The Line (BBC Radio Ulster)
Virgo Scum is the alias of emo tinged folk punk songsmith Eoghan Hilson. With charming and ghostly melodies Virgo Scum is a refreshing take on the classic acoustic guitar and vocals combo with his lyrically focused singalongs and decidedly pastel pink aesthetic.
Virgo Scum's lyrical prowess is reminiscent of Elliot Smith acoustic earnestness with a twinge of modern emo sensibilities, featuring topics centred around the supernatural and the unknown, every song feels like a ghost story to be told around a campfire.