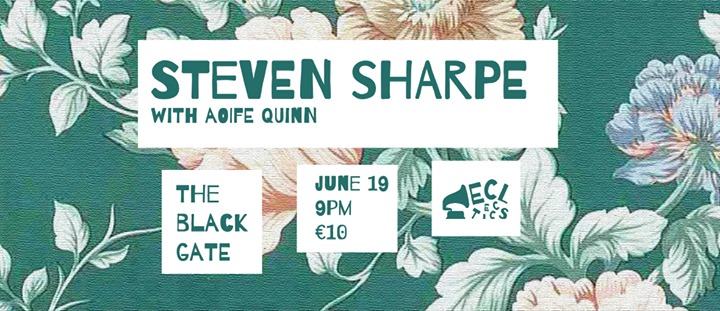 Eclectics:
Steven Sharpe w/ Aoife Quinn
The Black Gate
June 19th @ 9pm
€10
After his European tour and sell out run at this years Galway Theatre Festival, Steven Sharpe will be taking elements from both shows to Eclectics in The Black Gate on the 19th of June.
Undoubtedly one of Ireland's best kept secrets, Steven has a veracious, witty, and soulful style which blends music, humour and storytelling. Sharpe has an eclectic mix of influences such as R&B, Folk, Rock, Spoken Word, Blues/Soul, Musical Theatre, and a number of Avant-Garde and Alternative artists which is clear in his unique approach to music and performance.
"The best Irish entertainer I've seen to date"
– Simon McDonagh, TheThinAir.net
"One of Galways best kept secrets"
-Body & Soul, HotPress.com
"…see him play live. It's an experience not to be missed"
-Cathal McCormack, aee.ie
"one of the most exciting acts to hit the Galway scene in recent times"
– Kernan Andrews, Advertiser.com
https://stevensharpe.bandcamp.com/
With support from Aoife Quinn whose personal lyrics and soft western twang have stolen more than one heart.
Boy, I don't love you

Posted by Aoife Quinn on Saturday, October 13, 2018