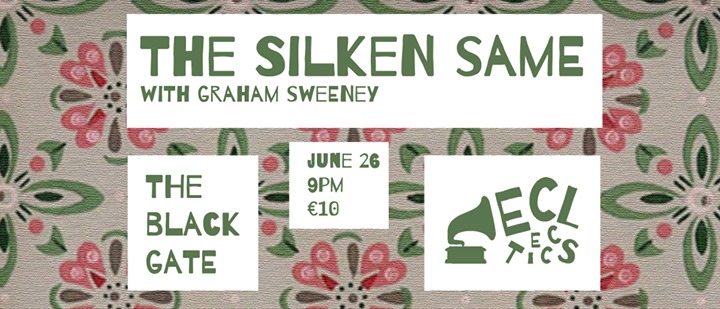 Eclectics:
The Silken Same w/ Graham Sweeney
The Black Gate
June 26th @ 9pm
€10 – Get tickets at this link! http://buytickets.at/theblackgateculturalcentre/277044
Following the release of a self-titled album, the Galway duo formerly known as Mossy Nolan have had a re-spray, a re-tune and have changed their name to The Silken Same. The sound you will recognise but they have a few fresh ideas that will surprise you now they're sharing the writing experience.
Weighted by loss, energised by wonder, it's a nuanced, mature record. For the band it's reflective of the years that have passed since their last release and the personal growth therein. Opening with Paris, City of Lovers – a story about the end of love, that jumps between the French Capital and the rural north-west of Ireland. From the illusions of romance to love's reality, the tune dances us around the verse beneath a looming Sacre Coeur. Offering us shelter in the chorus.Throughout, they use nostalgia to re-imagine painful memories or reassess decades dismissed. Time Painted Today is a beautiful song. Lush with sadness, it navigates losing a loved-one with the tenderness it deserves. "We didn't want to bury our heads in the sand. Personally, it was a tough couple of years and we couldn't ignore what happened. To do so would have felt like singing somebody else's songs."
Two songs involve their fathers and there is a strong connection to family and the past. There's nothing backward looking about the execution of their songs which have a distinctly modern feel. Their use of sampling adds a new dimension not heard before from the pair. Exile descends mid-song onto a sunlit piazza. Brooding and bubbling we hear the sounds of a festival with trumpets and fanfare. For fans of the instrumentals heard on their previous outings they retain the Balkan flavour. No more evident than on the wildly named Whose coat is that jacket. Clapping along is ill-advised as it rips into full flow.
http://thesilkensame.com/
Graham Sweeney is an innovative young singer-songwriter from Achill Island, Co. Mayo. He utilises a combination of techniques, blending traditional guitar playing with his own unique style of finger-tapping. The result is a truly distinctive sound that captivates audiences and leaves them wanting more. During his dynamic live sets, he shifts seamlessly between percussive guitar riffs and delicate vocal melodies. Over the past year and a half Graham has spent time touring with Declan O'Rourke and playing in some well-established venues throughout the country. He also recorded and released his first album, Closing Time, and played at several festivals, including Ballinamore Free Fringe, The Secret Village Festival, Battle for the Lake and, most recently, Vantastival. He's looking forward to a busy summer jam-packed with gigs all over Ireland and culminating in his biggest festival performance so far: Electric Picnic 2015. Performing on stage is Graham's true passion in life, and he is absolutely delighted to have been nominated for Best Male Solo Act in the Pure M Awards 2015.
"A very talented, original young songwriter with all the trademarks of a great career ahead."
Declan O'Rourke.
"Best new guitar player i've heard for years"
Luka Bloom
https://www.grahamsweeney.ie