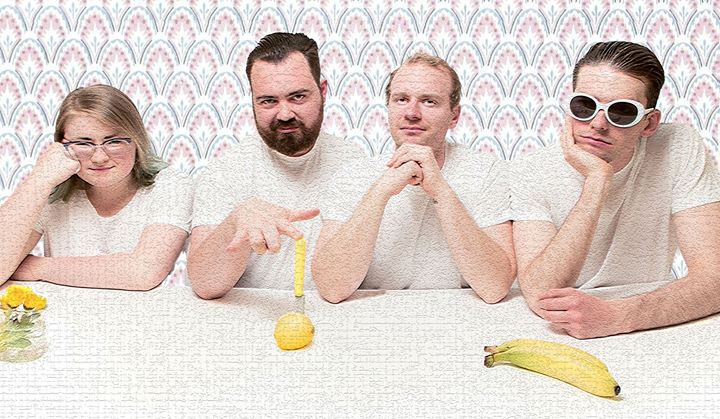 Eclectics
The Black Gate
Shrug Life w/ French Ket
9pm, November 20th
€10
Tickets: bit.ly/eclecticsshrug
Dublin's Shrug Life started as the product of rubbish jobs, failed romance and political apathy. Known for their wry humour and frenetic indie-rock, the group supported and toured with songwriting heroes Jeffrey Lewis and So Cow before releasing their debut album ¯_(ツ)_/¯ in October 2017, via Seattle based Jigsaw Records. The album was hailed by the Irish Times for it's "sharp lyrics that poke and prod at the clamour of modern life", while the Thin Air named it in their 15 best albums of the year stating "they are impossibly infectious and improbably good".
In May 2018, the group featured in The Guardian for their politically charged song 'Your Body', while July saw the group release new song '2009' produced by Daniel Fox (Girl Band/Paddy Hanna). The track features on the compilation 'A Litany Of Failures: Volume II' along with 17 of Ireland's best independent bands. Recently Shrug Life has played supports for international acts Hers, Declen Welsh, Swimming Tapes, The Beths, Alex Lahey and Pip Blom, while putting the finishing touches on their second album, which is due for release in 2020.
"Shrug Life meld earworm hooks with lyrics that prick at your conciousness" – Goldenplec
"Your Body by Dublin indie rock threesome Shrug Life aims straight for the Irish government's jugular" – The Guardian
"Insanely clever songs that leap and bound through modern quandries" – This Is Not A Drill
"Genuinely excellent power-pop" – Headstuff
"Shrug Life deserves to be heard. Nurture them because fuck knows we're not going to get another group like them for a long time" – The Thin Air
French Ketamine are a rock band from Galway. With a distinctive garage rock sound and quirky live show they've played gigs all around Galway and as far as the legendary Whelans in Dublin. Formed in 2017 they released their first self titled EP in May 2019.