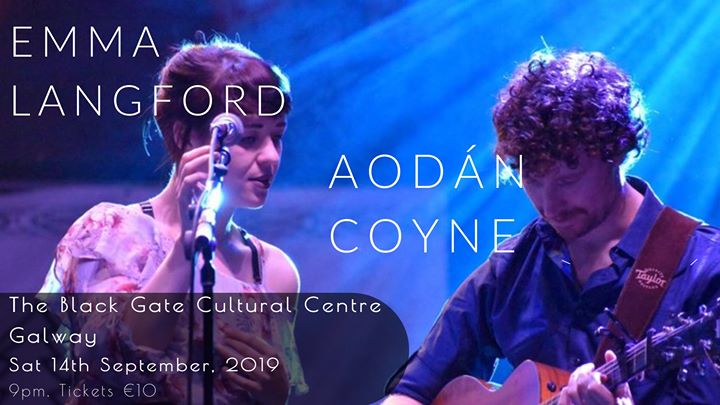 The Gig
A celebration of new songs and new beginnings: award-winning folk singer-songwriter Emma Langford has teamed up with Aodán Coyne, vocalist & guitarist in the internationally acclaimed folk trio Socks in the Frying Pan, to play a limited run of gigs in Ireland this Autumn.
In 2017 Aodán and Emma found themselves on the road together by chance, traveling across Germany and Switzerland for a month with the Irish Folk Festival Tour. In this month the artists bonded over a shared love of red wine, cheese, chess, Laura Marling, and the art of story-telling through song.
(Mostly Laura Marling.)
The two have since worked closely together in crafting their new and exciting respective albums, both due for release in the coming months.
In the cosy surroundings of The Black Gate, a glass of wine in hand (or lemonade if that's more your thing), you'll be treated to a unique collaborative performance of both artists' new and existing music, bridging genres of funk, folk and traditional Irish music.
Emma Langford:
She first broke on to the scene 3 years ago with a 6-track crowd-funded EP, and since then Emma Langford has quickly woven herself into the DNA of the Irish folk scene on an international scale.
Emma has channeled her influences and honed her craft, creating a sound that intricately blends folk, jazz, and Irish traditional nuance. Her voice dances the line between sweet and defiant, and combined with her distinct brazen wit, has endeared her to Irish and international audiences alike.
She launched her first album, Quiet Giant, in 2017, before going on to win an RTÉ Radio 1 Folk Award in 2018. The Irish Times described the Limerick woman's debut as an album that 'weaves a spell as you listen to it… An enduring piece of work', and the artist herself as a 'treasure in Ireland's music scene'.
Aodán Coyne:
New to the singer-songwriter world, Aodán has crafted his own alt-folk sound which blends Irish Traditional and modern folk tones.
"A singer capable of joining the ranks of the great Irish vocalists" – Folk World
Aodán made a name for himself as the guitarist and vocalist for the international touring band, Socks in the Frying Pan from Ennis Co. Clare. He released his first solo album "If We Only Knew" in 2015 to critical acclaim.
"What might very well be the best CD release of the year" – Irish American News
Having toured Europe and America professionally for the past number of years his upcoming 2019 album "Gaps Between Stars" is eagerly anticipated.
"We could not recommend this CD more highly to you" – Live Ireland
(Photo credit where applicable to Conor Ledwith)
Find out more about Emma Langford:
Web: www.EmmaLangfordMusic.com
Facebook: facebook.com/EmmaLangfordMusic
Twitter: @ELangfordMusic
The Seduction of Eve Official Music Video: https://www.youtube.com/watch?v=5Zs7Q26Nkjw