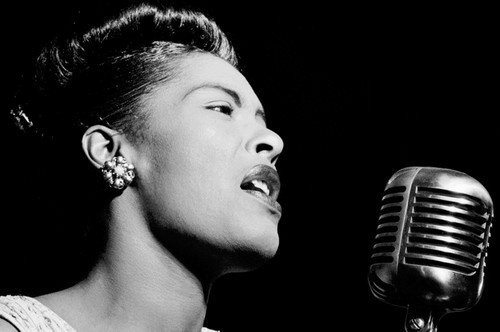 Curated by Aengus Hackett Music, the #JAZZGate Series pays tribute to the greatest jazz artists and composers of all time,
as well as featuring local and visiting musicians – the absolute cream of the Irish Jazz scene.
* JAZZGate will continue into this year, taking place
every Thursday from 9pm *
About Emile Conway:
Emilie Conway is an award winning Dublin born jazz singer whose stage debut was an impromptu session with Jon Hendricks and Kurt Elling in a Chicago club in 1999. She combines a love of melody with a feeling for the nuances of lyrics.
Frequently compared to Julie London, her diction is spot-on at every tempo and, with a straight-ahead style, she appeals not only to jazz fans but also to a more mainstream audience.
She performs and tours with some of Ireland's finest jazz musicians: Johnny Taylor, piano, Damian Evans, double bass, Dominic Mullan, drums and Brendan Doyle, saxophones.
About Billie Holiday:
Billie Holiday, born April 7, 1915 in Philadelphia, Pennsylvania, was a superstar of her day. She first rose to prominence in the 1930's with a unique style that reinvented the conventions of modern singing and performance. More than 80 years after making her first recording Billie's legacy continues to embody what is elegant and cool in contemporary music.
Holiday's complicated life and her genre-defining autobiography "Lady Sings the Blues" made her a cultural icon. The evocative, soulful voice which she boldly put forth as a force for good, turned any song she sang into her own. Today, Billie Holiday is remembered for her musical masterpieces, her songwriting skills, creativity and courageous views on inequality and justice.
The Band:
Emilie Conway – Vocals
Aengus Hackett – Guitar
Dan Bodwell – Bass
Barry Duffy – Drums
Full JAZZGate 2020 programme here:
JAZZGate
Subscribe to JAZZGate mailing list: https://bit.ly/2pMFCJL
https://www.facebook.com/aengushackettmusic
Tweets by aengushackett
#AengusHackett
Doors for the #JAZZGate series are at 9pm unless otherwise advertised, and music starts soon after.
Tickets €10, both at the link and on the door.