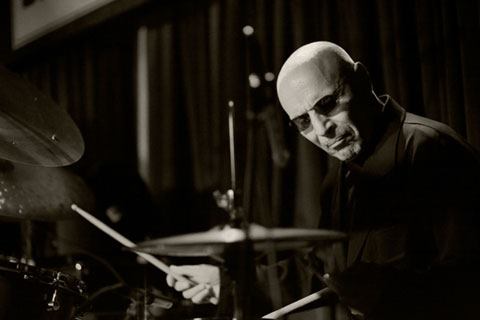 Curated by Aengus Hackett Music, the #JAZZGate Series pays tribute to the greatest jazz artists and composers of all time,
as well as featuring local and visiting musicians – the absolute cream of the Irish Jazz scene.
* JAZZGate will continue into this year, taking place
every Thursday from 9pm *
About Dan Walsh:
Dan Walsh – a drummer and multi-instrumentalist – is a very busy man; between side projects like the hardcore Not Earth, experimental duo Senior Infants and steering the ship at the monthly Cork Improvised Music Club night.
His main vehicle, however, is Fixity, under which name he released 'No Man Can Tell' – his sixth body of work – in April of last year. The six-track record continues Walsh's artfully crafted theme of songs not bound by those who play them on the album, something which he says is important to him as an improv musician.
About his live shows: "It's incredible because I'm finding out what it's like at the same time as the audience, so they're with us. That's true to real life for me, and an important thing for me to retain in my music."
About Paul Motian:
Paul Motian (March 25, 1931 – November 22, 2011) was an American jazz drummer, percussionist, and composer. Motian played an important role in freeing jazz drummers from strict time-keeping duties.
He first came to prominence in the late 1950s in the piano trio of Bill Evans, and later was a regular in pianist Keith Jarrett's band for about a decade. Motian began his career as a bandleader in the early 1970s. Perhaps his two most notable groups were a longstanding trio of guitarist Bill Frisell and saxophonist Joe Lovano, and the Electric Bebop Band which featured the drummer working mostly with younger musicians doing interpretations of bebop standards.
The Band:
Cathal Roche – Saxophone
Aengus Hackett – Guitar
Neil O' Loclainn – Bass
Dan Walsh – Drums
Full JAZZGate 2020 programme here:
JAZZGate
Subscribe to JAZZGate mailing list: https://bit.ly/2pMFCJL
https://www.facebook.com/aengushackettmusic
Tweets by aengushackett
#AengusHackett
Doors for the #JAZZGate series are at 9pm unless otherwise advertised, and music starts soon after.
Tickets €10, both at the link and on the door.