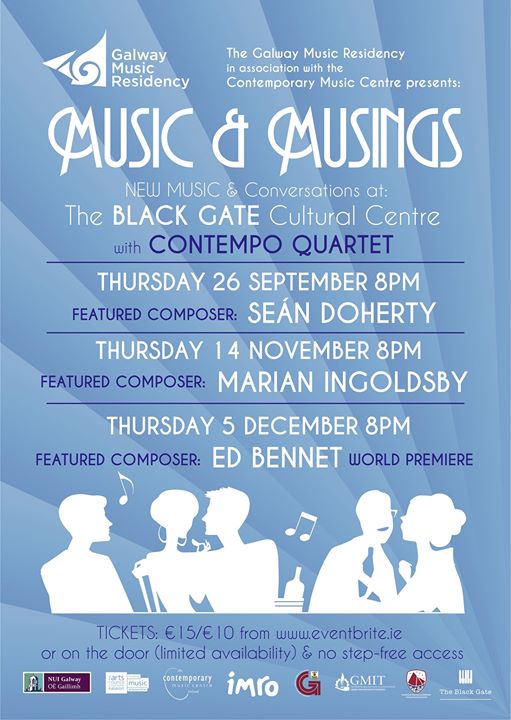 The Galway Music Residency continues its 2019 autumn series of Music & Musings in partnership with the Contemporary Music Centre. This series of concerts features ConTempo Quartet with emerging and established composers from Ireland exploring new music. The series allows the composers to share their insights and inspiration with the audience in an intimate setting, offering opportunities for all to understand today's musical creations. These are rare and special encounters with our current composers working in Ireland today, played with passion by ConTempo Quartet.
The second concert of Music & Musings on Thursday 14th November will feature celebrated Irish composer Marian Ingoldsby with her work Struck by a raindrop, first premiered in 1999 by the Jupiter String Quartet.
Her piece will be complemented by additional works played by the Quartet, with excerpts from Britten's String Quartet no. 3.
Both performances will be punctuated by discussion between composers, artists and listeners who are more than welcome to interact with questions about the music.
The evening will be chaired by John Caulfield of NUI Galway.
Tickets for these unique events cost €10/€5 and can be purchased at www.eventbrite.ie or at the door subject to availability.
This series is kindly supported by the Irish Music Rights Organisation (IMRO), an entity focused, among other programmes, on developing cultural initiatives to promote music creation, culture and cultural diversity. The Galway Music Residency is also supported by NUI Galway, the Arts Council, Galway City and County Councils and GMIT. For further information, visit www.thegalwaymusicresidency.ie or call 091586706.