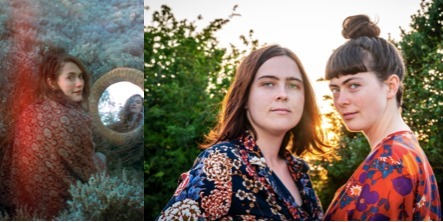 In this rare double-billing, Acclaimed Scottish singer Rachel Sermanni will share the stage with the incredibly talented Australian folk group – The Maes.
Nearly four years on from her critically-acclaimed second album, Tied To The Moon, Scottish singer-songwriter Rachel Sermanni is back with her third full-length, So It Turns – due for release on August 23rd through [insert label name]. The ten-track album is Rachel's most ambitious yet, her self-confessed 'folk noir' taken to alluring and often-unexpected new heights. In support of the release, Rachel will set out on a tour of the UK and Ireland, which will include a stop at London's St Pancras Church on the 10th October.
Multi-award-winning Melbourne contemporary folk outfit, The Maes (formerly The Mae Trio) is the brainchild of sisters Maggie and Elsie Rigby. Born into the arms of the Folk music community in Australia, both sisters were side of stage at their first folk festival when they were four weeks old and have been absorbing and exploring folk music since that time.
The Maes' latest, self-titled record set for release in May 2019 is a return to the sisters' folk music roots. Gentle, intimate and conversational, the album is an unadorned showcase of Maggie and Elsie's superb songwriting as well as honest, relaxed and stunning vocal and instrumental performances.
TICKET LINK BELOW
http://buytickets.at/theblackgateculturalcentre/269345