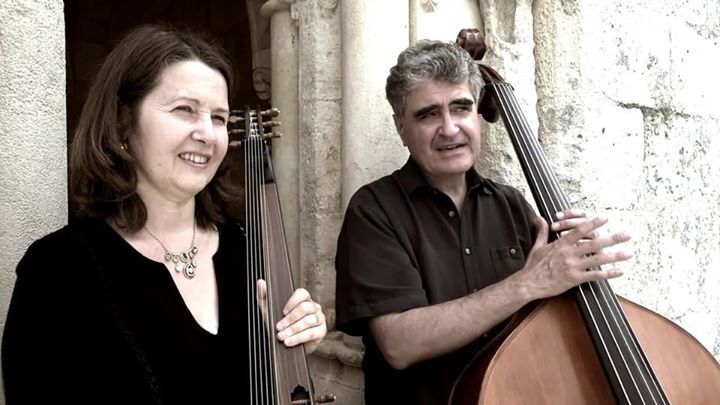 In association with Galway Jazz Festival 2019
Renaud Garcia-Fons & Claire Antonini, two exceptional musicians, formed a duo several years ago.
Their music has been enriched over time, each musician bringing unique experiences and passions for early music, jazz, and oriental music in the broadest sense.
The love for melody, for the rhythms of ancient traditions, for modal music expression, combine to give this project its unique sound.
The repertoire of 19 short pieces, primarily original compositions, are miniatures, describing imaginary travel to a cultural crossroads.
Here the double bass sounds like a ney, the theorbo like a setar.
Both voices are heard, yet the rich combination of timbres and modes of playing are ever renewed in the orchestrations.
Farangi, the foreigner in Persian, the traveler coming from west, wishes to celebrate and share this natural connection, the pleasure of soul that connects different music styles, as a universal language speaking to everyone's heart.
Renaud Garcia Fons
Renaud Garcia Fons needs no introduction to players of the double-bass. He is known universally as one of the most innovative and impressive players living today.
As a young man, he studied the double bass at the Paris Conservatory of Music, performing in its orchestras and refining his knowledge of music theory and performance. He also became the private student of François Rabbath, as a member of Le Big Band Roger Guerin, he performed side-by-side with some of the most renowned of jazz drummers, including Kenny Clarke and Sam Woodyard. By age 21, Renaud was awarded a diploma by the French Cultural Minister as Professor of Double Bass.
He started playing jazz with the band of trumpeter Roger Guérin, and thereafter had many collaborators, including symphony orchestras, jazz groups, and a trio. In 1987-93, he was part of the French all-double bass ensemble 'L'Orchestre de Contrebasses'. He remained with them for six years, also appearing with the 'Orchestre National de Jazz' directed by Claude Barthélémy during some of this time. Enja Records released his debut solo album Légendes (1992). Alboreá (1995) was his next album release, featuring his quartet including Jean-Louis Matinier (accordion), Jacques Mahieux (drums), and Yves Torchinsky (bass).
His third album, 1998's "Oriental Bass," featured his own compositions and was well received in the press. Next he combined with accordionist Jean-Louis Matinier on the album Fuera (1999). On many occasions he is accompanied by a variety of instruments, including guitar, lute, derbouka, flutes, trombone, and accordion. Garcia-Fons has collaborated with jazz musicians like Jean-Louis Matinier, Michael Riessler, Sylvain Luc, Nguyên Lê, and Michel Godard, and contributed to recordings of Gerardo Núñez and to Middle Eastern players such as Kudsi Erguner, Dhafer Youssef, and Cheb Mami.
Claire Antonini
Following advanced studies in guitar, Claire Antonini took up playing the lute and early music with Antoine Geoffroy Dechaume. Then, at the Conservatoire National Supérieur de Musique at Lyons, she was taught by Eugène Ferré, Gérard Geay and Robert Crawford Young. In 1992, she was awarded, unanimously by the jury, the Diplôme National d'Etudes Supérieurs de Musique. The same year she was awarded the Certificat d'Aptitude for the teaching of early music.
Since 1979 she has also studied traditional Persian music with Dariush Talaï and obtained the Diplôme d'Etat of a teacher of traditional music in 1989.
She gives regular recitals in France and abroad, particularly at the Museum of the Cité de la Musique, the Centre for Arab and Mediterranean music in Tunis, the Festival of L'Ile de France and contributes greatly to the dissemination of lute music, in particular the French Lute School of the XVII century.