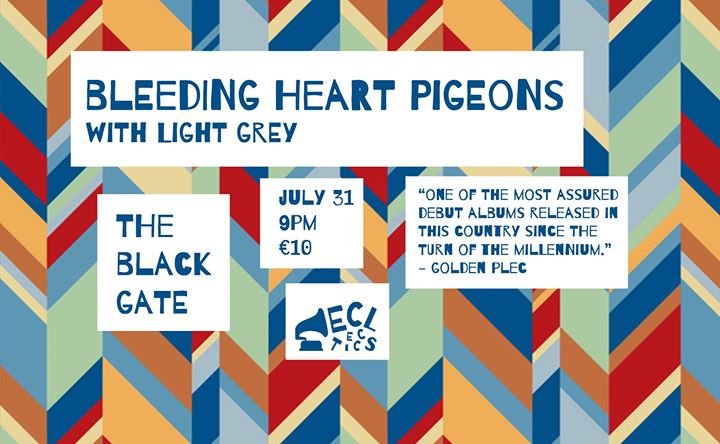 Eclectics
Bleeding Heart Pigeons w/ Light Grey
The Black Gate
July 31st @ 9pm
€10
Bleeding Heart Pigeons are a trio from West-Limerick who forge an enveloping sound with tempestuous guitars, atmospheric synths, and hypnotic hook-driven songwriting. Singer/guitarist Mícheál Keating, keyboardist/sampler Cathal Histon, and drummer Brendan McInerney formed the band as young teenagers in 2008. On the strength of early material they were signed to Virgin Records in 2013. Following the release of 'In a Room in Littleton, Colorado' EP, 'A Hallucination' EP, and 'Anything You Want' EP, their self-produced full-length debut 'Is' was released in 2016 to critical acclaim. On stage, Bleeding Heart Pigeons are powerful force, and they have opened for acts including The Pixies, Andrew Bird, Father John Misty and Beach House. Summer 2019 sees them embark on a run of intimate Irish dates, where they will be performing material from their hotly anticipated follow up to 'Is'.
"Fact is, this debut album from Limerick's Bleeding Heart Pigeons has more going on constructively in one song than many other bands have across a suite of tracks." – The Irish Times
"Bleeding Heart Pigeons ache with a sense of longing and also fear for what's really out there." – Mojo
"It is difficult to discuss Bleeding Heart Pigeons' debut, 'Is', without being accused of hyperbole. This is because the record is so brilliantly put together (the album is mixed by David Wrench – FKA Twigs, Jape), so massive in scale and yet delicate in sound, so outlandish and glistening, that any descriptor or adjectives that can be used to describe it sound fluffed and false. As a record, it is simply too good not to eulogize. On February 12th, so early on in the calendar, we will be bestowed with what potentially could be an album of the year. And so, eulogize one must." – Goldenplec
Light Grey are a pop rock band based in Galway, launched in 2017 with members Ciaran Nevin, Mikey Connolly, Sean O'Dowd and Conor McCarry.